Day 6 Round up Report at Lendy Cowes Week
Saturday, 05 August 2017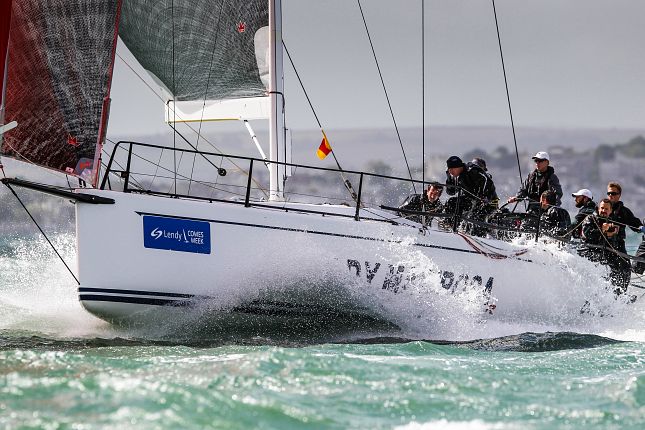 Sevenstar Triple Crown Overall Winners, Lady Mariposa © Paul Wyeth
Day 6 Round up Report at Lendy Cowes Week
By Rupert Holmes
Today delivered big winds to the largest yachts at Lendy Cowes Week, which have been competing in the Sevenstar Triple Crown series over the past three days.
A sharp shower, with gusts close to 35 knots, blasted across the start area as the warning signal for the Sevenstar Maxi Racer and Ocean Racer competitors was fired. A minute before the first start Ludde Ingvall and Sir Michael Hintze's 100ft super maxi CQS bore away in a flurry of spray to head for the line, before blasting downwind towards the more sheltered waters of the eastern Solent.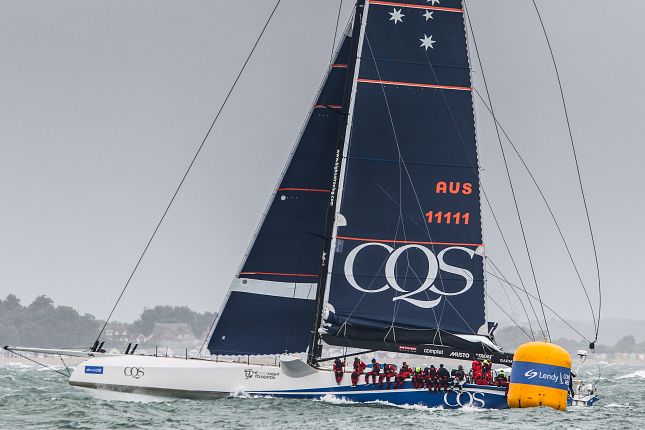 CQS, Maxi-Racer © Tom Gruitt
A measure of the conditions was that only seven of the 16 IRC Class 0 entries came out to play. Igor Yakunin's Ker 46 Lady Mariposa R led the fleet into the line, but it was not long before Tony Langley's TP52 Gladiator overtook, both boats surfing fast on top of the waves in the tidal race off Prince Consort, even though neither hoisted spinnakers until well east of the town. With their kites set the leaders flew downwind at speeds of more than 25 knots, reaching their first leeward mark off Portsmouth little more than 30 minutes after the start.
Gladiator took line honours at the end of their 24-mile race, with a sizeable margin on her competitors. Lady Mariposa R was next to approach the finish line, slamming heavily in the steep chop, with the hull forward of the mast leaping out of the wave crests and the whole mainsail flogging in the stronger gusts.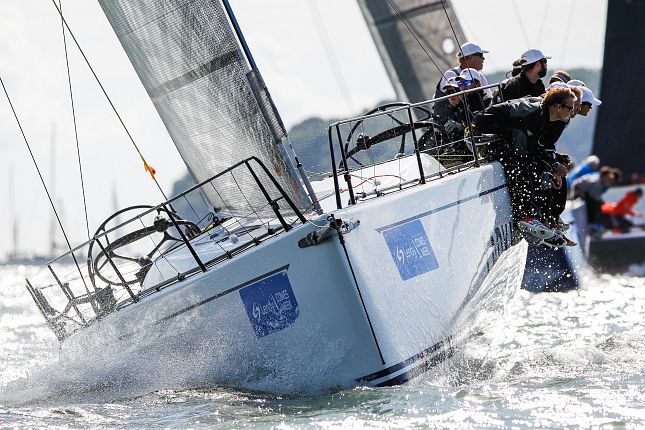 Lady Mariposa, IRC Class Zero © Paul Wyeth
However, less than 200 metres before the finish line she tacked and dropped the headsail, much to the surprise of both the crowds assembled on shore and race officials at the Royal Yacht Squadron. A structural failure had let the jib tack fly free, so that sail was replaced with a tiny staysail and Lady Mariposa R tacked again to finish the race.
Next home, 10 minutes later, was Christian Zugel's MAT1180 Tschuss, followed 90 seconds later by Claudio Pasquali's Mylius 15e25 Ars Una, both of them crossing the line as the gusts spiked to 40 knots.
The breakage on Lady Mariposa meant Yakunin's team failed to beat Langley on corrected time, or to save their time against Christian Zugel's MAT1180 Tschuss and so took third on corrected time. However, a second place in the first race of the series, plus a win in the second race, from which Gladiator was forced to retire, was enough to secure the overall Sevenstar Triple Crown win.
"We are really happy with our success this week and very excited to have won the first ever Sevenstar Triple Crown event," said Yakunin, a 20-year-old medical student. "I feel we were a bit lucky to have won overall, because Gladiator retired yesterday, but I suppose that happens in all sports. We had good, solid racing and the social programme has been amazing, so I am hoping that more big boats will enter next year – there's a lot on offer here."
Prizes for the series are some of the most prestigious trophies in the sailing world. As overall winner Yakunin picks up the Duke of Edinburgh Triple Crown Trophy, along with the Royal Yacht Squadron's King's Cup 1920 and the Sevenstar Triple Crown Trophy.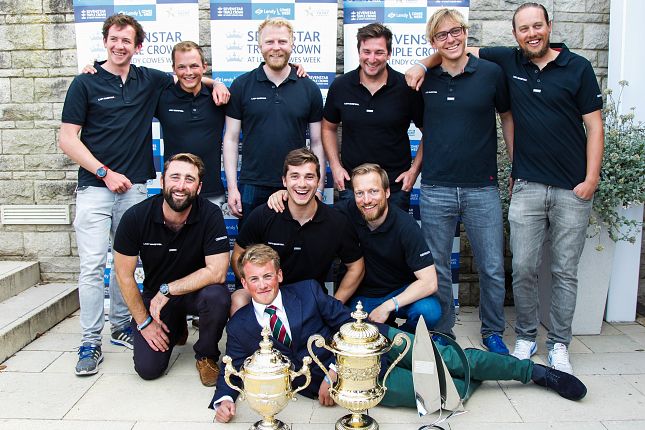 Lady Mariposa and their three trophies © Paul Wyeth
Team Jolokia won the King George V International Cup from the Royal Thames Yacht Club, while Ludde Ingvall and Sir Michael Hintze's 100ft super maxi CQS won the Royal Southampton Yacht Club's spectacular 120 year old Queens Cup. "We've been coming here for many, many years and have always suggested Lendy Cowes Week should create racing suitable for deep draught boats," said Ingvall. "We shipped the boat from Australia to be here, and this event – the world's premier regatta – has been fantastic."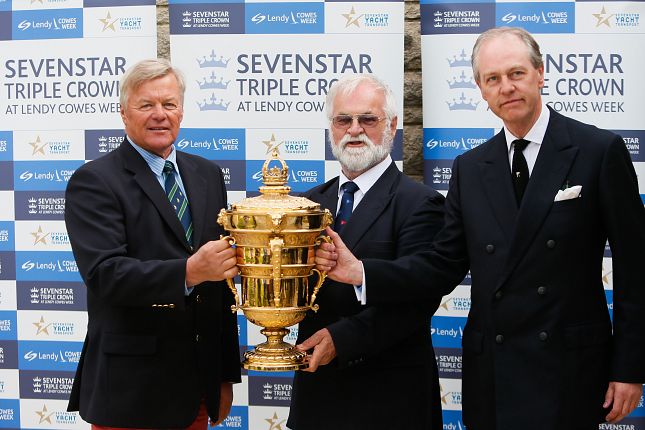 Ludde Ingvall and Charlie Egerton-Warburton representing CQS © Paul Wyeth
The Volvo Ocean 65 Mapfre also wins a special trophy in recognition of her success in yesterday's Around the Island of Wight race in which she set a new outright world record by a monohull yacht, subject to ratification.
Today's conditions were too severe for the other classes at Lendy Cowes Week to race, but tomorrow promises a return to perfect conditions, with south westerly winds of around 15 knots and plenty of sun.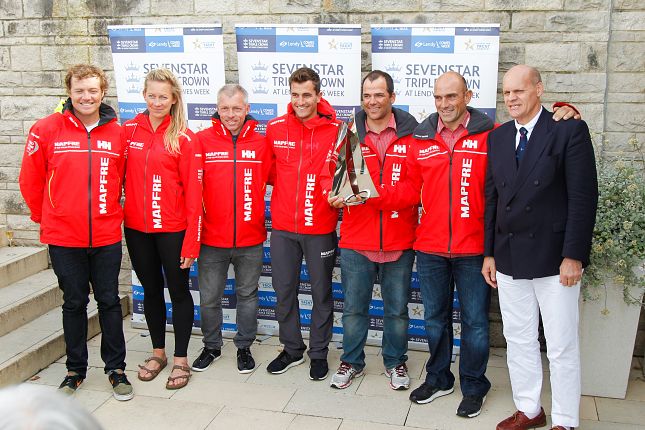 The record-breaking Mapfre crew with Regatta Director Phil Hagen © Paul Wyeth
Video Highlights of this week's racing: http://www.lendycw.co/videos
Instagram: https://www.instagram.com/cowes_week
BYM where the news is read.
1.5 Million News items opened Jan. 1- Apr. 30 2017
Our readership http://www.bymnews.com/pdf/january-june-2017-statistics.pdf
Two for the price of one a place on one of our 3 carousels plus a PDF in BYM magazine, embedded images included Just $42.50 PCM
Detailshttp://www.bymnews.com/demo/display-carousel.html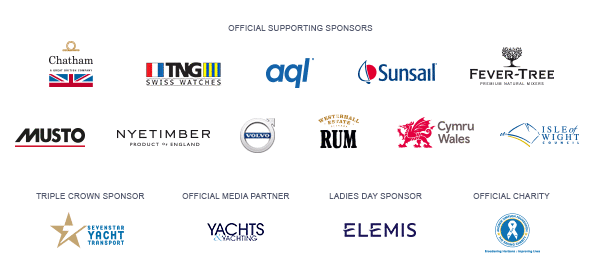 This email was sent to cathy@bymnews.com.
If you would prefer not to receive further news updates from us, please click here.
Last Updated ( Saturday, 05 August 2017 )